Better Place
MIT Technology Review, January 26, 2012
Edited by Andy Ross
Last week in Israel, a hundred electrically powered Renault Fluence ZE cars hit the roads, fueled by 225 kg lithium-ion batteries with a range of 160 km. The batteries can be recharged at home or swapped out at stations.

Better Place has built a network of robotic battery-switching stations throughout Israel for owners to swap their batteries in minutes for fully charged ones. The cars include navigation apps that guide a driver to them.

The Fluence ZE (for zero emissions) is a pleasure to drive. Smooth and silent, the car glides easily past the speed limit on Israel's fastest highways. Its navigation system can provide directions to the nearest battery-switching station at any time.

Company founder Shai Agassi predicts that by next year, his electric cars will be the best-selling vehicles in Israel and Denmark. Better Place has won endorsements for its business model. The company was founded in 2008 and is now worth about $2.25 billion.

MIT Technology Review, July 6, 2011
Edited by Andy Ross
Next month, Better Place will begin selling electric cars in Israel. The company claims to have solved the biggest challenge to the widespread adoption of electric cars: the batteries are heavy and recharging them takes hours.

Better Place will sell an electric car made by Renault with a range of 100 miles on a charge. For longer trips, the company provides swap stations where a robot system swaps out a depleted battery for a full one in five minutes. The swap stations can charge a battery in one hour.

Better Place will have 40 swap stations in Israel by the end of 2011 and a total of 55 soon after. It has also set up about 1,000 charging stations. The company says that will be enough for Israel.

Better Place offers a package including a car and three years of driving 25,000 km per year for $46,000. This is a third cheaper than buying and fueling a gas car in Israel over three years. Other packages include monthly subscription fees.

Better Place says it has 20,000 private customers on its waiting list and 70,000 tentative orders from fleet customers. This is nearly half the car market for Israel.

Better Place recently opened its first swap station in Denmark, it is building a network of stations in Australia, and it has pilot projects with Chinese automakers.


Making Electric Cars Work
MIT Technology Review, March 31, 2008
Edited by Andy Ross
A startup called Project Better Place raised $200 million of venture funding in 2007. The plan is to install recharging infrastructure in Israel and Denmark and to sell electric cars using a business model much like that for cell phones.

The company aims to address two limitations of electric vehicles: their range is considerably less than gasoline-powered cars, and the batteries take hours to recharge from ordinary outlets. Founder and CEO Shai Agassi says Project Better Place is installing a vast grid of outlets at parking spaces in Israel.

The company has arranged for the automaker Renault to manufacture electric cars with batteries that can easily be swapped out. The cars will have at least a hundred miles of range. On long trips, a driver will be able to pull into a station where a simple robotic system will remove the depleted battery and install a fully charged one.

To make this system work, Project Better Place will sell cars for a subsidized cost in return for drivers signing up for a service contract. The subscription will cover the cost of renting the battery, swapping it out, and the electricity for charging it up. The number of miles driven will be tracked using a wireless network.

The plan is particularly suited for small countries such as Israel and Denmark. All of the infrastructure needed in Israel can easily be paid for with the money that Project Better Place has already raised, Agassi says.

The Long Tailpipe
By Shai Agassi
Blog, March 30, 2008

Edited by Andy Ross
How do you run all cars in Denmark without gasoline? How do you build a virtual oil field big enough to drive an entire country?

Some people say about me that I dream big. Well, as much as I would like to be called a dreamer, I will share with you today a very pragmatic, down to earth solution to one of our biggest challenges in the global fight to stop climate change — moving our transportation systems to zero emissions.

Project Better Place declared only 2 months ago in Israel a groundbreaking new framework for electric transportation at country scale. In a simple way of describing our model, we are a new mobile company. Applying the same model as mobile phones to electric vehicles, we set a ubiquitous infrastructure that makes electric vehicles convenient, affordable, having long-range and appealing to consumers. We connect clean generation sources, through the grid, with car batteries — providing drivers with a better alternative to burning gasoline. Zero emission vehicles all the way from generation to drive at a scale that can move an entire country is the creation of a virtual oil field — one that will never run dry, and will not kill us in the process.

No Better Place
MIT Technology Review, May 31, 2013
Edited by Andy Ross
Better Place has run out of financing and will liquidate its assets. It was a bold effort to wean the world from oil by innovating with software and business models on top of existing electric vehicle technology. Better Place owned the battery packs in its customers' electric cars. For a monthly fee, customers replenished them at home and let robots swap depleted packs for fresh ones at Better Place stations. But it was tough to get carmakers to make cars for standardized battery packs.

The big idea was hatched in 2005 when SAP golden boy (as he then was) Shai Agassi spoke at Davos and Israeli president Shimon Peres urged him on. Agassi quickly raised $200 million and made a bold start with Better Place. He focused on Israel and Denmark, but consumer interest was tepid and he won too few customers. Only Renault made cars for its battery packs. The failure highlights the limits of battery technology and the challenges of innovation in the car market.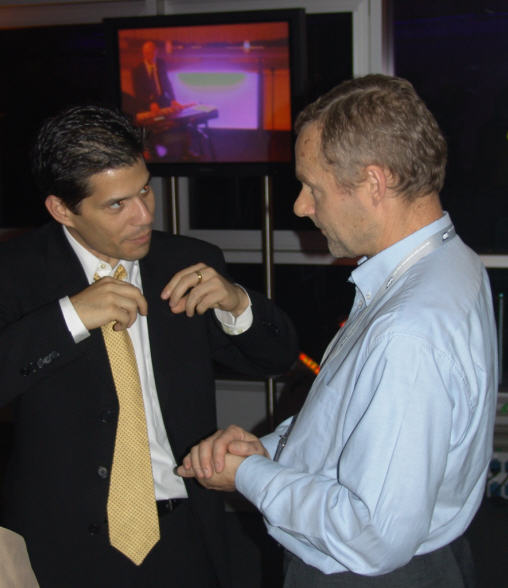 GR
Shai explaining something to me at SAP University in October 2004

Shai Agassi was the founder and CEO of Better Place. He was a member of the SAP Executive Board from April 2002 through March 2007, where he held responsibilities for the global development of the SAP product line and its portfolio of industry solutions.