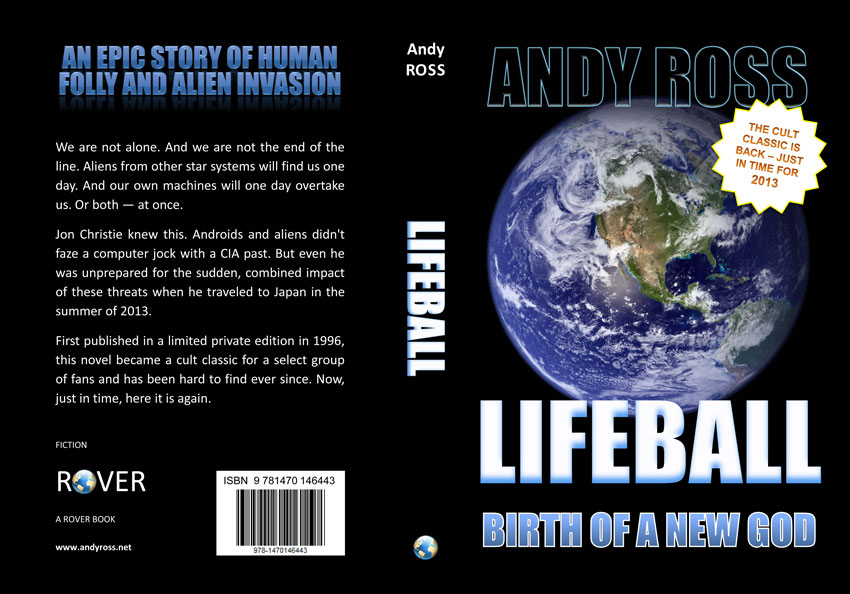 LIFEBALL
BIRTH OF A NEW GOD
An Epic Story of Human Folly and Alien Invasion
By Andy Ross
Rover edition 2012 with the text of the 1996 edition
Paperback, 15.6 cm x 23.4 cm, 432 pages
ISBN 978 147014644 3
We are not alone. And we are not the end of the line. Aliens from other star systems will find us one day.
And our own machines will one day overtake us. Or both — at once.

Jon Christie knew this. Androids and aliens didn't faze a computer jock with a CIA past.
But even he was unprepared for the sudden, combined impact of these threats when he traveled to Japan
in the summer of 2013.

First published in a limited private edition in 1996, this novel became a cult classic for a select group of fans
and has been hard to find ever since. Now, just in time, here it is again.

Contents
2020 Vision

0000 Logic — The truth unfolds
0001 Physics — Consciousness is photonic
0010 Psychology — All minds are mortal
0011 Biology — Life is more than human
0100 Robotics — Robots ainít human
0101 Informatics — Information is power
0110 Anthropology — Humans are only human
0111 Solipsistics — Are we alone?
1000 Futurology — Shoot the Moon!
1001 Mathemagic — All is one in cyberspace
1010 Politics — Proud nails get hammered
1011 Logistics — Letís do Star Wars!
1100 Astronomy — We are stardust
1101 Cosmology — What are lifeballs?
1110 Miphology — Angels are miphical creatures
1111 Theology — All you need is love

Back to 2020

Units
Sources
Thanks
FICTION

A ROVER BOOK