Don DeLillo Wins
PEN/Saul Bellow Award
The Guardian

Don DeLillo, the Underworld author, has been named winner of the $25,000 PEN/Saul Bellow award, which goes to an American fiction writer whose work "possesses qualities of excellence, ambition, and scale of achievement over a sustained career which place him or her in the highest rank of American literature".

DeLillo told PEN that it was a "special honor" to be given a prize bearing Bellow's name. "I still have my old paperback copy of Herzog, a novel I recall reading with great pleasure," he said.

AR I'm reading Underworld now.
It's excellent. I read Herzog in 1978. It's great.
"I must be near the end of my career — people are starting to approve"
Jonathan Franzen

Franzenfreude
Taking pain in the multiple and copious reviews being showered on Jonathan Franzen
Jennifer Weiner

AR Good 4U Jo!
Gulf States Buy Arms
Financial Times

The Gulf Arab states have embarked on a huge arms buildup, ordering U.S. weapons worth some $123 billion. The states are alarmed by Iran's nuclear ambitions.

Anthony Cordesman, from the Centre for Strategic and International Studies in Washington, said that the US was aiming to achieve a "new post-Iraq war security structure that can secure the flow of energy exports to the global economy."

Saudi Arabia is buying 85 new
F-15 Eagles and upgrading 70 more. Another agreement is expected to upgrade radar and missile defenses and modernize the navy.
Swedish Islamic Revolution?
The Local

With 5.7 percent of the vote, the far-right Sweden Democrats party enters parliament for the first time. The party won 20 seats in the Swedish assembly.

The Sweden Democrats tapped into voter dissatisfaction over immigrants, who make up 14% of the country's population. Party secretary Björn Söder, who is #2 behind party leader Jimmie Åkesson, said an Islamic revolution like that in Iran in 1979 could occur in Sweden: "Islamification is a question of destiny for the entire western world. ... It's a political ideology disguised as religion. And I think that it's a very appropriate subject to address, otherwise we'll be facing the same problem that Iran did in 1979."

AR Scaremongering
Against a Theory of Religion
Stephen Prothero

The world's religions are often seen, by believers and nonbelievers alike, as repositories of eternal truths.

In the Talmud, two rabbis, Hillel and Shammai, joust with each other over some three hundred different issues. Hillel, who has been described as "Judaism's model human being," almost always gets the upper hand. But the Talmud records Shammai's views too. Or, as the Talmud reads, "Both are the words of the living God, but the law is in accordance with the view of the house of Hillel."

When it comes to spiritual things, I don't mind a little confusion. In fact, I prefer it to having all the answers.

*****
"More than ever, to immerse yourself in an involving book seems socially useful," says Jonathan Franzen. Books are "where you can actually engage productively with an otherwise scary and unmanageable world."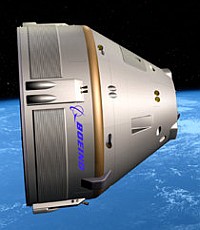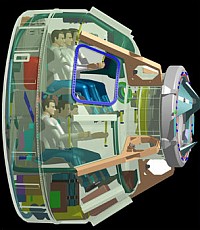 Boeing
Boeing Plans to Fly
Tourists to Space
The New York Times

Boeing is entering the space tourism business. The flights could begin as early as 2015, most likely from Cape Canaveral in Florida to the International Space Station. The Obama administration has proposed letting private companies take NASA astronauts to orbit, and has awarded Boeing a contract for a capsule to carry seven passengers.

AR Not for me, thanks.
Why 9/15 Changed
More Than 9/11
Gideon Rachman
Financial Times

The collapse of Lehman Brothers on 9/15 marked the end of the unipolar moment. The 9/11 attacks led to a dramatic reassertion of American power. Charles Krauthammer greeted victory in Iraq by hailing a "world dominated by a single superpower unchecked by any rival." The financial crisis has changed that assumption. China is already pre-eminent. The United States spent a decade pouring resources into combating the wrong threat.
New Basel Rules
Financial Times

Global banking regulators have sealed a deal to effectively triple the size of the capital reserves that the world's banks must hold against losses, in one of the most important reforms to emerge from the financial crisis.

AR One small step forward.
Now, about those bonuses ...
Political Correctness
Der Spiegel

Thilo Sarrazin is being pilloried over his polemic chastising Muslims, but he expresses the anger of Germans who are tired of being cursed when they offer to help foreigners to integrate.

AR Behind the secular image, Germany is a Christian land. That's the real problem for the curse-spouting foreigners.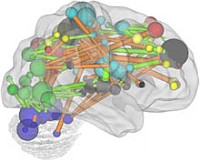 Credit: Science/AAAS
Researchers mapped how the functional connections between brain areas change with age. Short-range connections (green) tend to weaken and longer-range connections (orange) grow stronger. The circles mark brain regions that indicate maturity: size for importance and color for function.


Jimmy Page
By Jimmy Page

512 pages, over 700 photos
Leather bound, silk wrapped, autographed, £445

A fan: "For that price
he'd better deliver it to my
house and read it to me."


Clinton: Bush Policy Insane
CNN

Secretary of State Hillary Clinton used her speech to the Council on Foreign Relations to criticize George W. Bush's fiscal record. Cutting taxes while fighting wars in Afghanistan and Iraq was a "deadly combination" in terms of "fiscal sanity," she said.

AR Too true.
Diamond Outrage
Financial Times

Barclays Capital paid its American-born head "Bonus" Bob Diamond £40 million last year. Matthew Oakeshott, Liberal Democrat Treasury spokesman, said Barclays was "putting up two fingers" to the government and the Bank of England by appointing Diamond as its new CEO.
Petraeus: Don't Burn Koran
The New York Times

Burning copies of the Koran "would undoubtedly be used by extremists in Afghanistan — and around the world — to inflame public opinion and incite violence," said General David H. Petraeus.

AR I agree: let's withdraw the
troops first before we start
burning Korans.
Against Neurotrash
Roger Scruton

New disciplines have arisen with the prefix "neuro" in their names. This neurotrash seems to reduce the human being to a biological computer. Take erotic love. Brain science says nothing about what distinguishes people from laboratory rats, namely the I-to-I relation of lovers. That is why the conflict between religion and science endures. People hold on to their religion because it protects and endorses the belief in human uniqueness.

AR Agreed: neuroscience makes no claim on the I-to-I story.

The Man Who Lied to His Laptop
Clifford Nass, Stanford University

Clippy, the animated paper clip in Microsoft Office, was utterly oblivious to appropriate ways to treat people. In an experiment, we revised Clippy so that when he made a suggestion or answered a question, he would ask, "Was that helpful?" and then present buttons for "yes" and "no." If the user clicked "no," Clippy would say, "That gets me really angry! Let's tell Microsoft how bad their help system is." He would then pop up an email to be sent to Microsoft. People fell in love with the new Clippy.
American Islam
William Saletan, Slate

Candidates around the country are drawing a line against an Islamic house of worship near Ground Zero. In a survey by Quinnipiac University, a majority of New York State voters, 53 to 39 percent, agrees that "because of the sensitivities of 9/11 relatives, Muslims should not be allowed to build the mosque near Ground Zero." Ground Zero was just the beginning. The case against a mosque there has shifted from extremism to Islam.
2010 September 28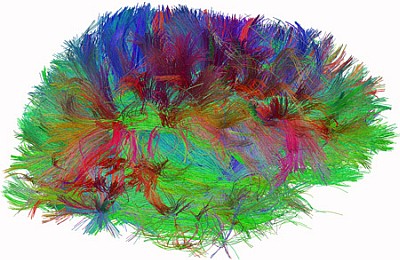 Source: Van J. Wedeen, M.D., MGH/Harvard U.
Diffusion spectrum image of brain wiring in a healthy human adult:
each thread contains hundreds of thousands of nerve fibers.

The Human Connectome Project
National Institute of Mental Health

Grants totaling $40 million to map the human brain's connections in high resolution have been awarded under the Human Connectome Project.

Dr. David Van Essen, Washington U.: "The Human Connectome Project will have transformative impact, paving the way toward a detailed understanding of how our brain circuitry changes as we age and how it differs in psychiatric and neurologic illness."

Researchers will map the connectomes in each of 1,200 healthy adults from 300 families. The maps will show the anatomical and functional connections between parts of the brain for each individual, and will be related to behavioral test data.

The researchers will use a customized MRI scanner providing high spatial resolution. After processing with a supercomputer, the data will become web accessible via a customized Connectome Database Neuroinformatics Platform.

AR This is a job for IBM Blue Brain machines.
2010 September 27
Top 50 paperbacks of the year?
The Times

AR A splendid pot-pourri. Evidently it was a good year. One dark horse that I was hoping to see on the list but which somehow ran under the radar was an intriguing manifesto in praise of things to come called "G.O.D. Is Great" by an author whose name escapes me. New talents always have it hard, and so it should be, but a list like this does tend to hammer home the status quo. How about another list of new stuff by complete unknowns?

The British Nuclear Deterrent
Air Commodore Alastair Mackie, The Times

As it discusses Trident replacement, the National Security Council would do well to discard the delusion that our deterrent is independent. It is no such thing. The warheads depend for maintenance on the U.S. Trident base in Georgia. The missiles are part-owned by an American corporation. And guiding Trident to its targets needs American navigation satellites.

AR Our deterrent is merely an appendage to the massive U.S. deterrent. It seems clear to me that it is therefore a purely political weapon system. Our purpose in thus helping to pay for the U.S. deterrent is to ensure that we keep the Americans on our side, come what may. It seeks to do with hardware what Winston Churchill sought to do with his personal charm offensive in the war years. As such, it seems a reasonable investment.
2010 September 25
Twenty reasons to love the Germans
The Times

1 Cars
2 Music (techno)
3 Jeans
4 Environmentalism
5 Angst
6 Fun grammar (was ist das?)
7 Genre cinema
8 Rocket science
9 Dull cuisine (yup)
10 Bachelor dining (hmm)
11 Autobahns
12 Seriousness
13 The British royal family (reality TV vom feinsten)
14 Refuge for troubled artists (thanks)
15 Haribo (yummy!)
16 Buying British cheese
17 Lager
18 Klaus and Nastassja Kinski (Nasti!)
19 Jürgen Klinsmann (who he?)
20 Self-loathing

AR As a Times-loving Brit who has resided in this most excellent of European nations for over twenty years, I can only applaud your good taste. Reason 21: German houses have thick walls, big eaves, roll-down window shutters, two-way hinged windows, marble stairs, sensible sockets for sensible plugs, reliable central heating, great modular kitchens, and good bathrooms. Think Bauhaus and IKEA (Swedish, I know, but same idea): stuff worth writing home about.
2010 September 21
Oktoberfest

Swedish Far Right Advances
Andy Ross, The Times

The underlying issue is bigger than Sweden. The far right will continue to advance in all European states until the immigration issue is tackled effectively.

A generation ago, Europe welcomed immigration to a booming continent. Now the boom is history and the previous immigrants need to be assimilated. It makes no sense to exacerbate social tensions by welcoming more. We need clear principles for deciding when to extend a welcome. We should not let ourselves become dupes of regimes who want to export their economic or political problem cases to us. Instead we should help those regimes to solve their own problems first.

The European Union must promote a realistic immigration policy. Then Sweden and other European states can work together instead of falling like dominoes to xenophobia.

The headline reactions to right-wing advances in Sweden, the Netherlands and other European states invite the domino metaphor. Xenophobia is on the rise and will keep growing until the political establishment in Europe reacts with more clarity on immigration.

Naturally the far right in Sweden is filled with sentimental nationalists. And naturally some of them support the racist stereotypes that give rational immigration policy a bad name. They are nationalist in part because the European internationalism on offer is so spineless.

The Sweden Democrats are a pressure group. Their detailed opinions are as crazy as any other such group. But they are symptoms of a deeper problem. We live in interesting times and the establishment seems clueless. I propose a way forward in my new book G.O.D. Is Great but I doubt that it will please xenophobes.
2010 September 20
The Grand Design
John Cornwell, The Telegraph

Professor Stephen Hawking says that if gravity was the basis on which the universe came into being spontaneously, "it is not necessary to invoke God to light the blue touchpaper and set the universe going."

But theologians in the tradition of, say, Thomas Aquinas, the medieval exponent of metaphysics, would agree, for sensible theologians don't understand God as an object.

Dare I suggest that it may be the oracular Professor Hawking who is failing to keep up with the philosophers and the theologians, rather than the other way around?

AR I dare say you're right, John.
2010 September 19-24
EUROPLANET
European Planetary Science Congress 2010
Angelicum Centre
Pontifical University of Saint Thomas Aquinas
Rome, Italy

Atmospheres of terrestrial planets
Martian moons
Rosetta flybys
Exploring the Moon
Active satellites with atmospheres: Titan, Triton, and Io
Enceladus
Comets, asteroids, and trans-Neptunian objects
New results from Venus
New science from Mars
Chemical evolution and early planetary life

AR I guess there's an Earthlike planet somewhere far away in the quantum multiverse where I'm a keynote speaker at Europlanet.
2010 September 19
Is it morally good to try to make all the money you can?
Is hypomania a useful character trait for entrepreneurs?
Should we say sorry to Muslims for being nasty to them?
2010 September 18
German Exports
Washington Post

American exports to China surged 25 percent in the second quarter of this year, but German sales to China grew twice as fast. Adjusted for the size of their economies, Germany is now out-exporting the United States to China by a factor of three to one.

Germany has created the most finely honed export economy outside of China. German companies are global market leaders for the products Chinese want. Exports now account for more than one-third of Germany's national output. Germany's $1.2 trillion in annual exports is roughly equal to the entire gross national product of India.

Germany became the first major economy to exit the Great Recession. In August, Germany's unemployment rate stood near a two-year low of 7.6 percent, with some companies in Germany now complaining of a labor shortage. Germany is better positioned for prolonged, stable growth than it has been in years.

AR I hope lots of Germans take time to read my Globorg book.

Hamed Abdel-Samad: "Islam is like a drug."
2010 September 17
Franzen's Freedom
The Times

The term "Great American Novel" was coined in 1868. It has hung like a curse over the country's fiction ever since. The function of the GAN is not to glorify America but to warn of very bad things.

Jonathan Franzen could have called his novel "Growth". Say "growth" to an economist and he'll smile. Say "growth" to an oncologist and he'll frown. As the 563-page narrative of Freedom moves to its conclusion, the authorial opinion is unequivocal. America is not the world's engine but the world's cancer.

Franzen boils down the freedom conundrum into a fable. There are some 75 million domestic cats in America. They kill more wildlife than all the guns in America combined. That's freedom for you. So is Freedom the Great American Novel? Only time will tell.

AR It sounds like Franzen has done in 563 pages what Cormac McCarthy did in fewer in The Road. In either case, you wouldn't expect an artist to appreciate the grand design of the Globorg that America has launched as our bid for immortality.
2010 September 16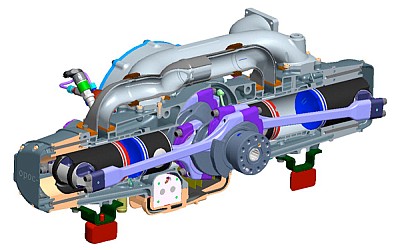 Credit: EcoMotors
A New Two-Stroke Engine
MIT Technology Review

EcoMotors International, a startup based in Troy, Michigan, has a new approach to the two-stroke engine which it says is efficient and can meet emission standards. The opposed piston, opposed cylinder (OPOC) engine uses two piston movements per cycle and each cylinder contains two opposing pistons, with one crankshaft between a pair of cylinders. The design relies on computerized control of all the components.

AR Looks better than my first motorbike engine.

The Servile Mind
K. Minogue

Society has become an association of vulnerable people whose needs must be met and sufferings mitigated by the power of the state. Individuals find their identifying essence in supporting public policies that are both morally obligatory and politically imperative. This is the ultimate servility.

Pope Benedict XVI Meets Queen Elizabeth II
BBC

The Queen: "Your Holiness, I am delighted to welcome you to the United Kingdom."

The Pope: "Today, the United Kingdom strives to be a modern and multicultural society. In this challenging enterprise, may it always maintain its respect for those traditional values and cultural expressions that more aggressive forms of secularism no longer value or even tolerate."

Are you planning to see the Pope? Read the terms and conditions.
At no time should you endanger yourself or others, take any unnecessary risks, or infringe any laws.

AR Thanks, BBC, for considering our welfare.
2010 September 15
Science
Anthony Gottlieb, Intelligent Life

Like the late comedian Danny Kaye, professional scientists sometimes get their exercise by jumping to conclusions. Historians of science call this bias the file-drawer problem: if a set of experiments produces a result contrary to what the team needs to find, it is filed away and the world never finds out about it. Discredited research is regularly cited in support of other research, even after it has been discredited. Trials of the safety and efficacy of drugs seem to be especially liable to errors. The biases of science reporting in the popular press produce misinformation. One response to the problem is to believe nobody. But suspending judgment makes it impossible to decide what to do about anything. The shortcomings of science do not make it rational to believe cranks instead. Science is the only game in town.
2010 September 14
Pope Warning
Jonathan Sacks, The Times

Pope Benedict XVI has been issuing a repeated warning we would be foolish to ignore. When he was still Cardinal Joseph Ratzinger, he contrasted the resurgence of Islam with the loss of identity and purpose in Europe. The proof was in European birthrates.

The Pope is not the only one to sound the warning. My doctoral supervisor, the late Sir Bernard Williams, a principled atheist, was convinced that we had returned to the cultural situation of pre-Socratic Greece. Britain today is a deeply secular place, and that is not about to change.

AR Sir Bernard Williams was a good philosopher. Dr Sacks has my vote. But people need faith in the future before they will breed freely. Our world is in flux (a Mormon prophet once told me we live in an age of "redemptive turbulence") and until the landscape looks clearer we do well to breed cautiously. Muslim masses will only exacerbate the problems of learning to live with robots and global organization, so we surely don't need to follow their example and breed heedlessly. I think we need to rethink the core idea of monotheism. Sir Bernard's thoughts on the self are relevant here. My new book (google "globorg") explains how a more scientific understanding of the success story of the Abrahamic tradition can help us.
2010 September 13
Aid To Pakistan
Andy Ross, The Times

Pakistan has too many people for its resources. And Pakistanis seem to have made no concerted effort to prepare themselves for the worst. Instead the authorities have fooled around developing expensive nuclear bombs and failing to tackle religious fundamentalism. Until we find more in Pakistan than a people in a state of denial about their true poverty, both material and spiritual, it's hard to see how aid can help.

A Future Dictionary
Douglas Coupland, The New York Times

The future never feels the way we thought it would. New sensations require new terms. Below are a few such terms to encapsulate our present moment ...

GLOBORG DRONE SYNDROME The enervating sense of being a selfless drone in the global organism as it races toward the Singularity. Globorg or GO is also the global organization, the successor to G8 and so on, so it's started already.
— AR
2010 September 12
Nerdocalypse
The Independent

At a reception to mark the start of the 2010 Singularity Summit, the world's leading forum for serious discussion of incredible things to come, in an apartment near the Golden Gate Bridge, scientists, academics, and futurists are discussing the singularity.

Michael Vassar: "Either you and everyone you love are going to be killed by robots or you are going to live forever."

The singularity is the moment when technology has moved so rapidly that the human race can never be the same again. This could be a good thing, according to Ray Kurzweil, if we avoid the dangers of genetics, nanotechnology, and robotics, then accept transhuman evolution. Or we go down in the nerdocalypse.

Ben Goertzel: "I would be among the least shocked people if we had the singularity in 2015. I also wouldn't be amazed if it was delayed to 2100, because some technologies prove hard to work through."

David Hanson makes robots he calls empathy machines: "If we don't feel like they're part of our family, then we're going to pick a fight with them. And the smarter they get, the more dangerous it will be to pick fights."

Steve Mann, the world's first cyborg, who's wearing his intelligent spectacles, bridges the man-machine gulf by playing House of the Rising Sun on what looks like an electronic bird bath.

Gregory Stock: "Drink this stuff, imbibe of it. When you really penetrate into this stuff it's absolutely mind-boggling. People should be taking pleasure in that."

AR Wake up Independent: The summit was a month ago.
And to drink this stuff read GIG

September 11 Anniversary
The New York Times

The ninth anniversary was marked by memorials and by heated demonstrations blocks from ground zero. At Zuccotti Park, Nick Chiarchiaro said, "A mosque is built on the site of a winning battle. They are symbols of conquest. Hence we have a symbol of conquest here? I don't think so."

The day drew famous figures. John R. Bolton, the former United States ambassador to the United Nations, addressed the New York rally against the proposed Muslim center via video, and Geert Wilders, a Dutch politician, described Islam as an intolerant "power of darkness," saying, "We must draw the line, so that New York, rooted in Dutch tolerance, will never become New Mecca."

AR Wake up Americans: Islam is not just a religion.
2010 September 11
Mapping Maturing Brains
Emily Singer, MIT Technology Review

A Washington University School of Medicine team has mapped how connections in the brain evolve with age. From age 5 to 30, short-range connections in the brain get weaker and long-range connections get stronger. Now the team has shown how to use a brain scan to determine a child's development.

The team used functional magnetic resonance imaging to record fluctuations in brain activity in a resting individual. Brain areas that are well connected fluctuate in synchrony, providing a way to map the brain's networks. The team studied more than 200 people of age 5 to 30 and recorded brain activity in 160 brain areas. They used a machine-learning algorithm to find patterns in the data. During the development of the brain's functional architecture, different brain regions separated as the connections between them weakened.

The research is part of a growing trend to analyze how the brain's networks interact, rather than focusing on specific brain areas. Researchers can predict an individual's age from 5 minutes of brain-imaging data. They are using the approach to study developmental disorders.

AR Good work: connectivity is the key logical property.
2010 September 9
Thilo Sarrazin
Joachim Güntner

Thilo Sarrazin denies preaching racism or eugenics. His new book outlines his concerns about the German republic and diagnoses a failure of immigration and welfare policies. The data and opinions on the aging of German society, the weaknesses of school pupils, and the lack of engineers and scientists are not new.

Philosophers will complain about his theory of justice. Sarrazin the banker denies any rich-poor divide. Friends of equality will find his ideas on equal opportunity grim reading. The author lacks empathy. He explains the failures of Muslim immigrants with reference to their culture. He believes they must assimilate, show a zeal for education, and not bite the hand that feeds them.

Sarrazin believes that the intelligence of the population can be boosted by breeding from intelligent people and suggests ways to raise the birth rate among the educated classes. He awaits expulsion from the SPD and dismissal from the board of the Bundesbank. He has only himself to blame.

AR A good way to retire: make a splash and promote one's book.

Hillary Better President
Tunku Varadarajan, Daily Beast

The speech Wednesday morning by Hillary Clinton was the best speech of this administration. The Secretary of State told the Council on Foreign Relations that we are all living "a new American moment, a moment when our global leadership is essential." She said "we will do everything we can to exercise the traditions of American leadership at home and abroad."

Hillary: "The United States can, must and will lead in the new century." To do that, Clinton promised "a new global architecture," "built to last and withstand stress." She said: "Democracy needs defending." China must follow "the rules of the road" in its aspiration to be a great power. Russia was scolded for its invasion of Georgia. The message: We may live in a multipolar world, but we have higher standards than those who would style themselves as our equals.

Clinton used phrases like "American might." She stressed the need for "good, old-fashioned diplomacy." Her diplomacy is based on the premise that America is the world's leader. She said the sources of "American might" are economic power and America's "moral authority."

Hillary understands that Obama is president. But Hillary would have made a much, much better president than Obama.

AR Hill is brill!
2010 September 8
Bankers Win Again
Anatole Kaletsky, The Times

The financial crisis has forced the adoption of policies that generate huge profits for banks. Bankers have been allowed to exploit zero interest rates for their own personal benefit. The exaggerated attacks against bankers ended up distracting attention from the real causes of the crisis. In Britain the false diagnoses have produced prescriptions that will shift the pain of economic adjustment to public sector workers and beneficiaries of the welfare state. The bankers will be laughing all the way to their banks.

AR Anatole is a good thinker, no doubt about it. Bankers will win as long as we use money to measure the value of our lives and work. I invented a word for this state: Globorg, the global organism (a.k.a. GO, the limit of the series G20, G8, G2,...). All our efforts are converging to bind us as living cells in Globorg. This is only a horror vision if we let bankers make all the money they can. Globorg drones of the world unite!
2010 September 7
Penguin Specials
The Times

Penguin Specials will fly again. On Wednesday, Penguin will publish the first of a new series. What made Allen Lane's imprint special was the decision, in 1937, to start producing — in softcover at sixpence a go — original non-fiction books. These were the Specials.

AR This is good news. As a kid I loved Penguin Specials. But new technology changes the game. New Specials must be short, fast, and punchy. Penguin must issue them with minimal editorial interference and no regard for print runs. Just fire and forget. The e-market and the backlist will forgive a few duds. This is a concept that can replace intellectual journals and magazines. Memo to Penguin: if you want a good Special, I'll be happy to cut down my latest book (above) to help you get started.
2010 September 6
Awakenings
The Times

In the wake of the Spanish Flu epidemic that swept the world in 1918, five million people were struck down by a mysterious sleeping sickness. Many of those who survived became locked for years in a rigid statue-like state called encephalitis lethargica. Oliver Sacks was a young British doctor who in 1969 gave them the new drug L-DOPA and woke them up. He told their story in his book Awakenings. In 1982 Harold Pinter wrote a play based on some of Sacks's cases. In 1990 came Penny Marshall's movie Awakenings, starring Robin Williams and Robert De Niro. Now Rambert Dance Company brings Awakenings to the dance stage (above).

Dreaming
Stella Duffy

My 126th novel was published this summer. I've realised that it is wise to pay attention to my dreams for work, not for great plot points or fully formed characters, but for the underlying concepts. There's something about the place that my dreaming goes to when my conscious mind is asleep (which I find very similar to chanting or swimming) that allows the less obvious to bubble up more freely.

AR 126 novels? Most of them must be crap.
2010 September 4
The Commander In Chief
Charles Krauthammer, Washington Post

Obama's military leadership can only be called scandalous. Where does America stand on the spreading threats to stability, decency and U.S. interests from the Horn of Africa to the Hindu Kush? Some presidents may not like being wartime leaders. But they don't get to decide. History does. Obama needs to accept the role.

AR Der Krauthammer may be overdoing the martial rhetoric here. We can't afford a crusade against the entire Islamic world. The best we can do now is to learn to live without Middle East oil.

My planned next book: The Philosopher
2010 September 3
Hawking's Grand Design
The Telegraph

God did not create the universe, Stephen Hawking has revealed.
M-theory may account for the birth of the universe.

Stephen Hawking and his colleagues are trying to find the patterns in the basic fabric of reality. Einstein was fond of referring to God when he was talking about the laws expressing the fundamental harmonies of the universe. But for Einstein, the concept of God is an expression of the underlying unity of the universe, something so wondrous that it can command a spiritual awe.

For Paul Dirac, who occupied Newton's chair before Hawking, the greatest mystery of the universe was that its most fundamental laws can be expressed in terms of beautiful mathematical equations. The young Dirac was an atheist. His colleague Wolfgang Pauli said: "There is no God and Dirac is his prophet." In 1963, the old Dirac said: "God is a mathematician of a very high order." He was speaking metaphorically.

Hawking supplants belief in a God-created universe by belief in M-theory. But the reasons for the mathematical order of the universe remain a mystery.

AR Einstein was better on this than Dirac, and Dirac was better than Hawking — or is this just my ancestor worship?

Hawking: Archbishop Responds
The Times

The Archbishop of Canterbury, Rowan Williams: "Belief in God is not about plugging a gap in explaining how one thing relates to another within the Universe. It is the belief that there is an intelligent, living agent on whose activity everything ultimately depends for its existence."

AR Dear Dr Williams, everything in the world revealed to me in my consciousness seems ultimately to depend for its existence on me. But physics and biology show that I'm not God and the world doesn't depend on me. The fallacy that it does is the inversion of logic on which the whole self-comforting attraction of the God meme depends. So let's get to work on a new psychology (to find my new book on this, google "globorg"). Then we can debunk the religious fundamentalists before they kill us all.
2010 September 2
Hawking: No God
The Times

Did the Universe need a creator? No, says Stephen Hawking. In his new book, The Grand Design, co-authored by Leonard Mlodinow, he says the Big Bang was an inevitable consequence of the laws of physics.

Emeritus Professor George Ellis, President of the International Society for Science and Religion: "My biggest problem with this is that it's presenting the public with a choice: science or religion. A lot of people will say, 'OK, I choose religion, then' and it is science that will lose out."

Professor Hawking says physics is on the brink of writing a theory of everything, a single framework that has been the holy grail for physicists since Einstein. He suggests that M-theory will achieve this goal.

Frank Close, fellow of theoretical physics at Exeter College Oxford: "I don't see that M-theory adds one iota to the God debate, either pro or con."

AR Frank Close is right: M-theory is irrelevant to the God debate. But Hawking's colleague George Ellis is righter still: if people are forced to choose, they will often choose religion with its superstition and willed ignorance of science. My take: until we have a science of psychology that can demonstrate how physics and evolution imply the self-organization of ever higher forms of self from stuff, there will be room for debate (see Mindworlds). Until then, scientists do well to turn down the hubris.

Chief Rabbi Fights Back
The Times

Chief Rabbi Jonathan Sacks: "There is a difference between science and religion. Science is about explanation. Religion is about interpretation. Science takes things apart to see how they work. Religion puts things together to see what they mean."

AR Physicists like Stephen Hawking and religious figures like Lord Sacks alike often seem to miss the insight on the God question offered by the great philosopher Immanuel Kant. In Kant's scheme, the great unknown in the realm beyond all phenomena was unconditioned by the phenomenal categories that we in our human predicament seek to impose upon it. Nothing we can say in physics or elsewhere outruns our own categories, but nothing in such categorial talk can condition the supra-phenomenal being that we seek in all innocence to capture with our babbling about God. Our knowledge of God stops at being, and thus impoverished collapses to nothing, in accordance with Hegel's dialectical logic. Even Karl Marx knew this.
2010 September 1
Blair Speaks Out
The Times

Former British Prime Minister Tony Blair says that his successor Gordon Brown got it wrong with his Keynesian approach to the economic crisis. Blair says Brown should have taken a new Labour way out of the crisis.

Blair reaffirms his personal credo of market reform in welfare and public services, economic liberalism, and intervention and engagement abroad. He says the Western agenda has been upset: "We have become too apologetic, too feeble, too inhibited, too imbued with doubt and too lacking in mission."

Blair argues that the West must be strong against the extremist strain within Islam. The West cannot respect the narrative of the extremists. We need to show the passion and inspiration of the battle against communism and fascism in the fight against extremism.

AR New Labour was economic pragmatism backed by Blair charisma. The Blair team had no plan to prevent a Keynesian spending-spree response to financial meltdown. Tory cuts are the consequence. But on Islamist extremism Blair is right on. We need Blair to champion a global response that reaffirms Western core values.
Stuxnet Versus Iran
Financial Times

The Stuxnet internet virus that has damaged computer systems in Iran was designed by foreign governments to undermine the country's nuclear ambitions, according to Tehran.

The malware has affected at least 30,000 IP addresses in Iran. Some western intelligence experts believe Stuxnet could have been launched from Israel.

Iran has played down reports that the virus has damaged its nuclear power station at Bushehr. But western experts are keen to know whether the virus may have affected Iran's crucial uranium enrichment site at Natanz.

AR Nice try.
Red Ed Seizes Labour
The Guardian

Ed Miliband, 40, has seized the Labour leadership in a dramatic victory over his elder brother David, 45. Ed won with 50.65 percent of the vote (to David's 49.35 percent) thanks to the unions. David was backed by MPs and MEPs, who warned that the union vote was a "disaster" for the party.

AR Red doom
Mideast Arms Against Iran
Financial Times

The Obama administration's $60 billion arms deal with Saudi Arabia is a strategic move to confront Iran through proxies and allies. By pushing helicopters and fighters to the Saudis, the United States is changing the perception that Iran is the rising power in the region. President Barack Obama and King Abdullah seek to create a new balance of power.

The move will help deflate calls for attacks on Iran's nuclear capacity. But while new Saudi military capacity can resist Iran today, the weapons may also scare Israel or other nations in the region tomorrow.
The Meat Eaters
Jeff McMahan
The New York Times

We should stop participating in the mass orgy of preying and feeding upon the weak. If we could arrange the extinction of carnivorous species, ought we to do it? Many thousands of animal species are being driven to extinction as a side effect of our activities. We could favor the survival of herbivorous rather than carnivorous species.

We must stop tormenting and killing animals as a means of satisfying our desire to taste certain flavors or to decorate our bodies in certain ways. But if suffering is bad for animals when we cause it, it is also bad for them when other animals cause it. So let us drive all carnivorous species to extinction.

AR Earthlings
Are Religions Adaptive?
Sue Blackmore

Michael Blume has shown that all over the world and in many different ages, religious people have had far more children than nonreligious people. Data from 82 countries showed almost a straight line plot of the number of children against the frequency of religious worship, with those who worship more than once a week averaging 2.5 children and those who never worship only 1.7.

This suggests that religious memes are adaptive rather than viral from the point of view of human genes. Religions still provide a superb example of memeplexes at work, with different religions trying to out-compete other religions, and popular versions of religions outperforming the more subtle teachings of the mystical traditions. Somehow the phrase "symbiont of the mind" doesn't have quite the same ring.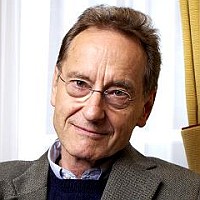 Photo: Miquel Gonzalez
Bernhard Schlink
The Times

Professor Bernhard Schlink, 66, grew up in Heidelberg. He is the author of The Reader, which became a Hollywood movie starring Kate Winslet, who won an Oscar in 2009 for her depiction of Hanna, an illiterate former concentration camp guard. Schlink refers to the "old critique that you can't show someone who did monstrous deeds as having a human face." But that just wasn't the experience of his generation, he explains.
Great Memoirs
Robert McCrum, The Guardian

The one quality I look for in the author of a great autobiography is that he or she should be as merciless on themselves as on their adversaries. The great memoirist should face themselves in the mirror with an unflinching gaze.

AR Robert, you're a hard man.
THE PHILOSOPHER

A Tetralogical Memoir
By Andy Ross

I. BOY
II. MIND
III. SOUL
IV. MAN
Europe Irrelevant
Philip Stephens
Financial Times

European Commission president José Manuel Barroso talks about Europe as a global leader. I see a Europe that looks like Japan. The United States and China are the pivotal players in moulding the new global order.

European Central Bank president Jean-Claude Trichet says the euro is resilient. I see a European Union whose leading members are much diminished. But European per capita incomes are still 10 times those in China.


Books
Jack Shafer, Slate

There are still reasons to write books. It's still an achievement to write one. A book can still give an author control over what's said and how it's received. If written expertly, a book can signal seriousness and erudition. And sometimes an author's labors can generate returns beyond the minimum wage.


Afghan Wealth Running Out
Financial Times

Dubai has become a magnet for Afghanistan's nouveau riche. A scandal involving Kabul Bank, Afghanistan's largest private lender, highlighted the ties between the Gulf's commercial world and the Afghan elite. About $10 billion flows between Dubai and Afghanistan every year, most of it leaving the country.
Limit Religious Freedom
Christopher Hitchens, Slate

What kind of Islam will the U.S. Muslim population follow? The taming and domestication of religion is one of the unceasing chores of civilization. Those who pretend that we can skip this stage in the present case are deluding themselves and asking for trouble.

Green to Join Government
The New York Times

Stephen Green is leaving his post as chairman of HSBC to join the British government as minister for trade and investment. "I am delighted to appoint Stephen to this vital role," said Prime Minister David Cameron.

AR Green is better off in a
government post than in
academia.
The A-Cup Crowd
The New York Times

More small-chested ladies are openly celebrating their look. Retailers and bra makers are serving women who make no excuses for their flat bosoms. But women with small chests disagree about what they want from a bra. One camp consists of traditionalists. Another would just as soon go braless. The middle camp wants a degree of authenticity. For too long, bra shopping has demoralized such women.

AR My advice: go braless.
Let slim women breathe free.
Baha'i
CNN

Minoo Vosough was arrested in Tehran more than 25 years ago and thrown into solitary confinement. Her crime in the Islamic republic is her faith.
She is a Baha'i.

AR The Baha'i faith is Iran's
best hope to escape the death cult of fundamentalist Islam.

Morality
Sam Harris

People think it is impossible to speak about moral truth because there is no intellectual basis from which to say that anyone is ever right or wrong about questions of good and evil. I want to undermine this assumption.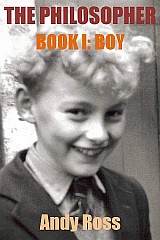 UK Treasury Cuts Planned
Financial Times

George Osborne is planning to cut staff numbers at the Treasury by about one-quarter and scale back his department's role as he attempts to lead by example in the search for sweeping spending cuts across Whitehall. The Treasury is also asking civil servants to sit at smaller desks, closer together.

AR They're getting desperate!
Put The Mosque Elsewhere
Judea Pearl, Jerusalem Post

Treating homegrown terror acts as isolated incidents of psychological disturbances while denying their ideological roots has given American Muslim leaders the illusion that they can achieve public acceptance without engaging in serious introspection and responsibility sharing for allowing victimhood, anger and entitlement to spawn such acts. The construction of the Ground Zero Mosque would further prolong this illusion.
Banks Trade Renminbi
Financial Times

A number of the world's biggest banks have launched international roadshows promoting the use of the renminbi to corporate customers instead of the dollar for trade deals with China. HSBC, which recently moved its chief executive from London to Hong Kong, and Standard Chartered, are offering discounted transaction fees and other financial incentives to companies that choose to settle trade in the Chinese currency.

AR HSBC CEO Stephen Green is an alumnus of my alma mater in Oxford.
Updating Peer Review
The New York Times

A small vanguard of digitally adept scholars is inviting online readers to comment on books in progress, compiling journals from blog posts, and even petitioning their universities to update the way they grant promotions and tenure.

The traditional method of peer review can take years. This month, mathematicians used blogs and wikis to evaluate a big new candidate proof in the space of a week.
"When I was growing up, an elite controlled the media. And the majority of the world was very, very poor, both in a resource sense and an information sense. Since then, a set of things have occurred."
Google CEO Eric Schmidt

Google Offers Cloud
Based Learning Engine
MIT Technology Review

Google Prediction API provides a machine-learning black box. Data goes in one end, and predictions come out the other. There are three basic commands: one to upload data, another telling the service to learn what it can from it, and a third to submit new data. The black box contains a suite of algorithms. When data is uploaded, all of the algorithms are run to find out which works best, and the best algorithm is then used on new data.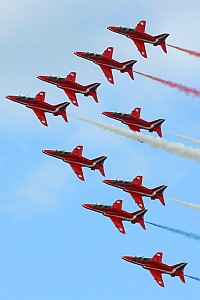 Red Arrows
The Telegraph

Plaid Cymru MP Jonathan Edwards called for the Red Arrows to be scrapped. He told BBC Wales he thought the £8.8 million annual budget for the team's running costs could be put to better use.

AR I say scrap Mr Edwards
as soon as possible.
Oracle Sues Google
Over Android
Financial Times

Oracle on Thursday filed a copyright and patent infringement claim against Google over its Android operating system. The lawsuit accuses Google of breaching seven patents that Oracle assumed when it acquired Sun Microsystems. Android is based on open-source software but Oracle says it also includes some Java elements. Oracle CEO Larry Ellison acquired Sun largely to buy control of Java.

AR SAP knew Oracle would start to behave like this with Java and hence is deemphasizing its Java stack in favor of the tried and trusted ABAP stack.
U. Cal. physicist Petr Horava wants to rip time and space free from one another in a unified theory that reconciles quantum mechanics and gravity.

The motion of electrons in supercold graphene seems to break Lorentz symmetry. So Horava changed general relativity to remove Lorentz symmetry and add an arrow of time. He found an apparently good theory of gravity at the quantum scale.

Anil Ananthaswamy reports





My Amazon review of Hitch-22
by Christopher Hitchens
"There is a risk that publishers will go under, but we are very self-confident in that regard."
Random House CEO
Markus Dohle
The Prophet On Debt
Roger Scruton

The Prophet Muhammad knew a thing or two about human nature. An economy without interest, insurance, limited liability, or debt trading would be righteous.

The Thatcherite revolution was about freedom. The market was a moral good. The state was the great intruder. This new morality forgot that in an economy of fictions, nobody is called to account.

(to be continued)
2010 August 31
Anglo-French Navy
The Times

Britain and France are preparing to share their aircraft carriers to cut costs. This would allow Britain to cancel one of its two new carriers. David Cameron and President Sarkozy are expected to outline the proposal in a November summit.

AR This is an excellent idea. Even if it produces limited cooperation and few savings, the experience will be useful for later pooling our nuclear deterrents to make an EU umbrella. Concorde showed we can work with the French. Tornado and Eurofighter showed we can work with Germans and others. A carrier deal is a logical next step. We should always work with our EU neighbours.

Beck Assails Obama
Washington Post

Conservative commentator Glenn Beck claimed on Fox News that President Obama "is a guy who understands the world through liberation theology, which is oppressor-and-victim."

"I don't know what that is, other than it's not Muslim, it's not Christian. It's a perversion of the gospel of Jesus Christ as most Christians know it." Beck dispelled rumors that he might be considering a run for president in 2012.

AR Face it, guys, America is a Christian land. The clash of civilizations is a tragic inevitability for century 21.
2010 August 30
Ground Zero
The Daily Beast

Sharif El-Gamal and his brother Samir own the building for the Ground Zero Mosque. They have a history of tax and debt issues. Sharif once told a court he didn't hit a tenant from whom he was trying to collect back rent. He told police the tenant's "face could have run into my hand."

Imam Faisal Abdul Rauf and his wife were surprised by the facts about Sharif, whose domineering personality doesn't suit the boring work of building a nonprofit. Rauf may decide to build his Islamic center elsewhere. That may be the best solution all round.

AR Certainly the best solution for the future of Islam in America.
2010 August 27
Taleban Target Cameron
Andy Ross, The Times

Since Winston Churchill used to be casual about his own security too, it's hard to fault David Cameron for his attitude, but it would be a great shame to hand a victory on the scale of a prime ministerial assassination to the Taleban. Or would we regard such an event as a trigger for a new level of intensity in the conflict and begin to get serious about hunting the Taleban to extinction? If so, why not do it now and get the job over with? There are no civilians in a land where the Taleban can melt into the population, so I see no sound reason for holding back on the firepower, at any rate until the day when the Afghans rise up in outrage against the spiritually stunted men of violence in their midst and proclaim their wholehearted solidarity with us and our cause.

Our challenge in Afghanistan is analogous to the confrontations between the Israelis and Hamas and Hezbollah. The only reason the Israelis hold back on the firepower is that international opinion makers, especially those who have never had to confront existential threats, think they know better. Liberals think holding back is the better option, and unless or until events prove otherwise we are well advised to indulge them. The trick is to cease to indulge them before the threat becomes existential.

Advice To Writers
Andy Ross, The Times

Writing is a solitary game indeed. With competition from new media and the disruption of digital technology to trash the old business model, the publishing industry is in the worst state I've seen it in for over forty years. This extends beyond the world of literary novels. For example, I worked in software for years in order to earn the money to write a popular monograph this year, and have now published it digitally at my own expense, but what now? A deafening silence suggests commercial doom despite all the effort (to find my book, Google "globorg" and choose "G.O.D. Is Great"). If even a book about building a money-making global organism is such a struggle to publish, I pity any young novelists who don't want to pander to the mass market.
2010 August 24
Hallowed Ground
Andy Ross, The Times

Ben Macintyre accepts the evident sanctity of the Ground Zero site without taking his logic a step further. Christian or Jewish occupancy of the Cordoba Centre would not have generated a heated debate, and a blanket appeal to religious freedom fails to isolate the crucial difference. Islam is a big tent that covers not only a religion but also a political movement. The Ground Zero site recalls a hostile act performed in the name of a politicized religion. Until the Islamists have been neutered politically, and this is a global challenge that may take decades to resolve, we should not treat Islam on a par with Judaism or Christianity.

The Drug Crusade
Andy Ross, The Times

Colin Blakemore deserves strong support for his wise views on an issue that has dragged on unresolved for too many years. Public tolerance of tobacco and alcohol abuse is at least as indefensible as any relaxation of our policy toward cannabis and other soft drugs, yet the legal contrast in our treatment of offenders is shocking. Irresponsible drunks often get off scot-free whereas people who use recreational drugs risk devastating legal consequences. We see the inconsistency here but have done nothing to change it since the sixties, when the illogic was first exposed with rock-star headlines. Chronic drunks and chain smokers are worse for all of us than occasional party trippers. And palliative use of marijuana should certainly become an acceptable medical option.
2010 August 21
King James
The Times

James Cameron is currently finishing Avatar's novelization, rather than "hiring some hack writer to come in and turn the script into a fluffed-out piece of garbage." The 56-year-old Canadian is just about the most powerful man in Hollywood, from his Terminator films to Aliens, through The Abyss, True Lies and Titanic. He's been working with NASA, designing the stereoscopic imaging of the rover they're launching to the Red Planet next year: "We'll literally be shooting a 3D movie on Mars."

The man who saved Europe: a German tribute to Winston Churchill
2010 August 20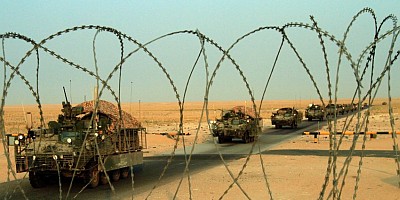 AP
U.S. troops leave Iraq to the mercenaries

Robert Wright says there's no sound rationale for bombing Iran
2010 August 19

The Times
Bomber Comment
Andy Ross, The Times

I don't wish to seem pedantic, but I think you'll find that the RAF bomber behind the Flying Fortress in the picture is a Short Stirling, not a Lancaster.
2010 August 17
Chinese Military Expansion
Andy Ross, The Times

As long as Chinese military spending remains at about a fifth of U.S. spending, we have little to worry about. In fact, we should be grateful that China is shouldering the burden of ensuring security and stability in the region. Western policy now should be to help China solve issues with Taiwan and Korea, and later to secure good relations between China and Japan. New friction there would endanger global prosperity more than any other current threat except nuclear war in or near the Gulf region. Chinese growth has no big implications for British defense planning. Our best course is to focus on whipping the gaggle of European national forces into better shape.

The End Of Empire
Paul Craig Roberts, Infowars

Washington cannot spend the economy out of recession. Laurence Kotlikoff [blog, Aug 13] thinks the solution is savage Social Security and Medicare cuts or equally savage tax increases or hyperinflation to destroy the vast debts.

In 2009 and 2010 the federal deficit jumped to $1.4 trillion. Money to finance the deficit comes from individuals fleeing the stock market into Treasury bonds and from the bankster bailout. The banks used their excess reserves to purchase Treasury debt.

Next, the Federal Reserve can purchase Treasury bonds. But as the government prints money to pay its bills, prices will rise. By the end of this year, the rest of the world will be dumping dollars wholesale. When the dollar goes, the United States cannot finance its trade deficit. Imports will fall, with a risk of hyperinflation.

The United States can reduce the deficit by hundreds of billions of dollars per year by ending the wars. More hundreds of billions of dollars can be saved by cutting the rest of the military budget. The United States can bring back offshored jobs by taxing corporations according to where value is added to their product. If the wars are not immediately stopped and the jobs brought back to America, the United States is history.

AR It's painful any way you cut it. But surely better to control the deficit now than lose control later.
2010 August 15
The Great Cover-up
Andy Ross, The Sunday Times

Has anyone considered that the great cover-up may be related to the increasing prominence in public discussion of issues relating to burkas? Is the new prudery an attempt, perhaps unconscious, to show more solidarity with Islamic norms of virtue? This summer on Bournemouth beach I saw that women in groups from south Asia were swathed in generous lengths of fabric. Perhaps more liberated young women are embarrassed to flout their bodies too brazenly before such groups, who would surely tut-tut about Western decadence if bare breasts were to bobble in their vicinity. So what do we do? Cover up meekly or throw off the bras? And how about public breast feeding of infants? If we want to encourage the practice, we should learn to relax about alfresco displays of bare bosoms.
2010 August 13
The U.S. Is Bankrupt
Laurence Kotlikoff, Bloomberg

The International Monetary Fund has effectively pronounced the United States bankrupt: "The U.S. fiscal gap associated with today's federal fiscal policy is huge for plausible discount rates. ... closing the fiscal gap requires a permanent annual fiscal adjustment equal to about 14 percent of U.S. GDP."

Current federal revenue totals 14.9 percent of GDP. So the IMF is saying that closing the U.S. fiscal gap requires an immediate and permanent doubling of our personal-income, corporate and federal taxes, as well as Federal Insurance payroll levy. Then we would run a surplus equal to 5 percent of GDP this year, rather than a 9 percent deficit. The IMF is saying the U.S. needs to run a surplus now and for many years to come to pay for scheduled spending.

The Congressional Budget Office long-term budget outlook shows a fiscal gap of $202 trillion, which is more than 15 times the official debt. This discrepancy between our "official" debt and our actual net indebtedness shows that Congress has labeled most of its liabilities "unofficial" to keep them off the books. The fiscal gap is the correct measure of our long-run fiscal condition because it considers all spending, no matter how labeled, and incorporates long-term and short-term policy.

We have 78 million baby boomers who, when retired, will collect benefits from Social Security, Medicare, and Medicaid that, on average, exceed per-capita GDP. We ran a massive Ponzi scheme for six decades straight, taking resources from the young and giving them to the old. It can't go on. Our country is broke.
2010 August 12
When the Israelis begin to bomb the main sites of the Iranian nuclear program, they will change the Middle East forever.
2010 August 10
Salman Rushdie on the wonders of paradox
Andrew Ross, The Times

Salman Rushdie is a fount of peerless wisdom. Like so many of his essays, this one is a gem. Yet the cult of contradiction may not stand uncontradicted. The great philosopher Hegel poured forth contradictions without end, and even had the conceit, or rather the hubris of the ambitious autodidact, to present the whole fountain of words as a logic. Then logic moved on to more mathematical forms and ended up shaping the world live in, where, as Salman puts it, "we are urged to define ourselves more and more narrowly" into a straitjacket of packaged identity.

The clashes of identity politics are among the corollaries of the great paradox of our time. This paradox is that our human selves must make their peace with each other in a world in which the great "I am!" has risen above the turbulent ranks of the religionists and evaporated into the cosmos. Salman quotes Tom Stoppard's fictional Sir Archibald, who invites us to consider what it would look like if it looked like the Earth went round the Sun. Well, what would it look like if we lost our identities and simply went around asserting "I am" as our identity? Bang, bang. This is a slow burn of a joke.

Salman is lamenting our steady loss of tolerance for paradox. Of course he's right to lament. But scientists are right, too, to enforce this corollary, because otherwise my computer wouldn't be logical enough to write these words. The tragedy in this rectitude, for me, is that I have no better instrument than my computer through which to enjoy communion with the peerless Rushdie.
2010 August 6
Britain's Nuclear Deterrent
Andrew Ross, The Times

Sir Michael Howard's wish that we think ahead can hardly be faulted. But a positive proposal would be more apposite. Mine is that we merge our deterrent with the French deterrent. There are technical issues here that would take a decade to sort out, but if we could agree in principle to deploy a common deterrent by 2020 our international prestige would surely rise. We could argue that the age of national ownership of weapons of mass destruction was passing. Our precedent could trigger a global debate on how to manage nuclear deterrent capabilities in a globalized world. Not least, in a possible future where the European Union becomes a more coherent global actor, the Anglo-French deterrent could become EU property, funded jointly by all European nations. All it takes is political vision.
2010 August 4
Faster, Cooler, Cheaper Computing With Photonics
MIT Technology Review

An Intel team led by Mario Paniccia, director of Intel's photonics lab in Santa Clara, CA, has demonstrated the first complete photonic communications system built into silicon chips. The system can move 50 GB/s via four lasers that shine data into an optical fiber at different wavelengths. Chips with more lasers are planned. Says Paniccia: "Having a chip the size of your fingernail that can deliver a terabit per second changes the way you can think about design."

The new chips could replace the metal wires between the processors and memory in a computer. Copper wiring limits the distance between critical components. Moving them apart would make cooling easier. And photonics links use less power. Says Keren Bergman, who leads a silicon photonics research group at Columbia University: "You can get an order of magnitude gain in energy efficiency."

AR Wonderful — Globorg here we come!

2010 August 2
SAP Five-Year Plan
Daniel Schäfer, Financial Times

SAP co-CEO Bill McDermott said SAP growth would accelerate to 2015. SAP aims to increase its customer base, which jumped 10 percent in Q2, by putting its software on mobile devices. SAP aims to increase users from the current 35 million to 1 billion.

SAP plans to disrupt rival Oracle's business model with its mobile strategy and the in-memory technology [developed in my former team, now called NewDB].

On Oracle, McDermott said: "Their story is to sell bite-sized chunks of yesterday's technology... SAP can disrupt their business model."

Oracle CEO Larry Ellison called the in-memory technology "wacko, ridiculous, complete nonsense."

Forrester analyst Paul Hamermann said: "In-memory is still emerging from Hasso Plattner's lab and we have not seen many applications yet. It is not clear what SAP's road map for its technological innovation is."

McDermott said SAP could exceed its 2010 revenues guidance, currently 9 to 11 percent.

AR NewDB rocks! A billion users would be awesome.
Go For Thorium
The Telegraph

Thorium is better than uranium. A ton of thorium produces as much energy as 200 tons of uranium. Thorium eats its own hazardous waste. It can even scavenge the plutonium left by uranium reactors. Thorium reactors run cool. And thorium is common. The United States and Australia are full of it. All of it can be burned, unlike uranium.

The Norwegian group Aker Solutions has the patent for the thorium fuel cycle and is looking for tie-ups with the United States, Russia, or China. After the Manhattan Project, U.S. physicists considered thorium reactors. But the military wanted the plutonium from uranium to build bombs.

If President Obama ordered a new Manhattan Project, he could end our dependence on fossil fuels within a few years.

AR Do it, man!



From my Californian friend
Lynn's blog:
"Twitter is a relatively easy way to stay on the radar of a great many people. Sure, it takes a bit of time. But on Twitter you can create instant exposure, build credibility, and brand yourself as a top talent. Learn to be pithy and smart in 140 characters and you may attract the attention of potential employers."
The Instant Expert
Weekly Standard

"The Suicides usually attack early in the morning," Amin said. "It's a hot country and the explosive vests are thick and heavy."


The F-Bomb
Foreign Policy

In Afghanistan, Captain Dan Kearney is sitting with local elders he is trying to win over. A man complains about an arrest. Kearney turns to his Afghan interpreter and says: "You're not understanding that I don't fucking care."
"I am worried about the decline of what I call deep reading.
You do less of that in a world where everything is a snippet, everything is an instant message, everything is an alert."
Google CEO Eric Schmidt


"Google knows more about us than the KGB, Stasi or Gestapo"
Der Spiegel

Bundesjustizministerin Sabine Leutheusser-Schnarrenberger said the German cabinet has decided that a general reform of the data protection law was the best way to deal with intrusive new data services such as
Google Street View.

This is the year when China clearly becomes the world's second-largest economy, after the United States, pushing Japan to third place. China is now focused on overtaking the United States (within 20 years, many project). China's economy is now some 90 times larger than in 1978. Growth has lifted at least 300 million people out of poverty. Last year, China overtook Germany to become the world's biggest exporter.
The Times
German Architecture
Der Spiegel

City planner Albert Speer says that reconstruction in Germany has been problematic because of the complete rejection of history after World War II.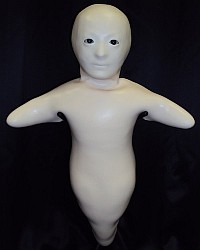 Osaka U. & ATR Int. Rob.& Comm. Labs

EEEEEEEEUGH!
IEEE Spectrum

Osaka University Professor
Hiroshi Ishiguro unveils
Telenoid R1, his new
teleoperated android
"The fundamental human rights of women trump the teachings of any religion."
David Rothkopf
Foreign Policy
(continued)

For the statist, the state and its clients come first. The political class looks after its supporters and buys favor from the rest. European states put high taxes on all who work hard and bribe the rest with a free ride.

What we are seeing in Europe and America is a demoralization of economic life. The Prophet advocated another and truer way: the way of moral judgment.

AR Pious tosh. Who decides what's moral — the clerics?



Arabische Sprichwörter


Goldene Göttinnen
Get Rich In Iraq
Jeffrey Archer, The Times

If I were a young man, looking to make my fortune, I would be off to Iraq like a shot. Plenty of other young men are there already — Russians, French, Germans, Swedes, Chinese of course, even Turks and Lebanese. President Talabani was keen to get across to me his disappointment that, while thousands of foreigners were setting up companies all over Iraq, the British were noticeable by their absence. He wants adventurous entrepreneurs to realize there is an opportunity in Iraq that rivals the gold rush.

AR Jeffrey the adventurer ...
Iraq is still the Wild West
until the locals learn how to maintain law and order.
Sabotaging Iranian Nukes
Financial Times

Iran has suffered a series of technical setbacks to its nuclear program in the past 12 months, triggering suggestions that western intelligence agencies are sabotaging its likely ambition to build an atomic weapon.

Iraq Intelligence Fiasco

Iraq posed no real threat prior to the Anglo-American invasion of March 2003. The assault on Iraq proliferated jihadism across the Middle East and incubated Islamist extremism in the UK.

"Arguably we gave Osama bin Laden his Iraqi jihad," Eliza Manningham-Buller, former director-general of the British domestic security service MI5, told the UK war inquiry.

AR If we had kept doing to Iraq what we're now doing to Iran, we could have now done to Iran what we then did to Iraq. Bygones.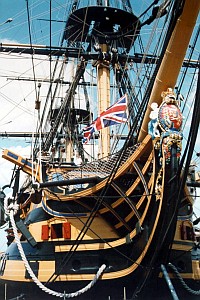 HMS Victory
(Nelson's flagship at
Trafalgar, 1805)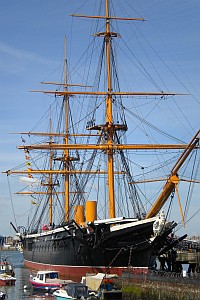 HMS Warrior
(1860)
2010 July 31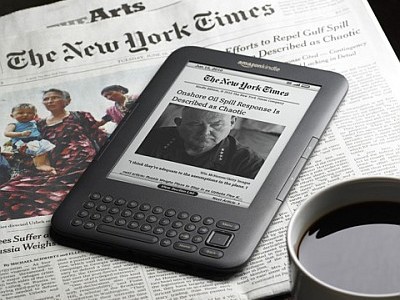 On August 27, Amazon will ship the 3G Kindle: less than 9 mm thick, weighs less than 250 g, pages turn 20 percent faster, longer and slimmer page-turn buttons with quieter clicks, five-way control with OK button plus four directional buttons, battery life one month with 3G radio off or 10 days on, and storage for 3,500 books.
Steven Levy, Wired
2010 July 27
Cameron: Let Turkey Join EU
The Times

British Prime Minister David Cameron, in Ankara for talks with Turkish Prime Minister Recep Tayyip Erdogan, is expected to tell him: "When I think about what Turkey has done to defend Europe as a Nato ally, and what Turkey is doing today in Afghanistan alongside our European allies, it makes me angry that your progress towards EU membership can be frustrated in the way it has been." On Turkey's strained relations with Israel after the botched raid on ships trying to break the Gaza blockade, he will say: "Turkey is a friend of Israel. And I urge Turkey, and Israel, not to give up on that friendship."

AR The Times seems to have privileged access to future time here. But the main point is well taken: it looks increasingly curmudgeonly to block Turkish entry into the European Union.

Astute Political Move
Suna Erdem, The Times

Turkey is an economic powerhouse. With 11.4 percent growth in Q1 2010 and government debt at 49 percent of GDP, Turkey has a robust banking system. Exports are booming to regional friends such as Iran, Syria, and Russia.

AR We need Turkey to help control global relations with Iran.

Don't Blame Pakistan
Imran Khan, The Times

The war in Afghanistan cannot be won militarily. As the United States and NATO realize the failure of their military policy in Afghanistan, they are seeking to shift the center of gravity of the war into Pakistan. One fear is that it will lead to a Taleban- controlled nuclear Pakistan. That fear betrays a total ignorance about the evolution of the Taleban movement as well as the impact of the War on Terror on Pakistan.

When the Americans were drawing up their military response to the 9/11 attacks, the Pakistani leadership capitulated and the United States gave General Pervez Musharraf the embrace of legitimacy. Anyone who knows the region and its history could see it would be a disaster. Until that point we had no militant Taleban in Pakistan. The country is fighting someone else's war.

AR The last sentence is the giveaway. It's everyone's war, Khan.
2010 July 26
Are We In A Black Hole?
Anil Ananthaswamy, New Scientist

According to Nikodem Poplawski, inside each black hole there could be another universe. Maybe our universe is inside a black hole.

In general relativity (GR), inside black holes are singularities. The equations of GR break down at singularities. Poplawski used a modified version of Einstein's equations called the Einstein-Cartan-Kibble-Sciama (ECKS) theory of gravity that takes account of the spin or angular momentum of elementary particles to calculate torsion in spacetime. When the density of matter is high enough, torsion counters gravity. This prevents matter compressing to infinite density, so there is no singularity. Instead, says Poplawski, matter rebounds and starts expanding again.

Poplawski applies ECKS to model the behavior of spacetime inside a black hole the instant it starts rebounding. Gravity initially overcomes torsion's repulsive force and compresses matter, but then the repulsive force increases and the matter rebounds. Poplawski calculates that spacetime inside the black hole expands to about twice its smallest size in much less that a Planck time.

If we are living inside a spinning black hole, it would spin our spacetime and define an axis in our universe, says Poplawski.

Cosmology With Torsion
Nikodem J. Poplawski, Indiana University

The ECKS theory of gravity provides a simple scenario in early cosmology which is alternative to standard cosmic inflation and does not require scalar fields. The torsion of spacetime prevents the appearance of the cosmological singularity in the early Universe filled with Dirac particles averaged as a spin fluid. Instead, its expansion starts from a state at which the Universe has a minimum but finite radius. We show that the dynamics of the closed Universe immediately after this state naturally solves the flatness and horizon problems in cosmology because of an extremely small and negative torsion density parameter. This scenario also suggests that the contraction of our Universe preceding the state of minimum radius could correspond to the dynamics of matter inside the event horizon of a newly formed black hole existing in another universe.

AR This is excellent. ECKS is better than GR. But it's still a classical theory, and anything calculated for less than a Planck time is probably wrong until we understand quantum gravity.

Indian Laptop Flop
CNN

India's ministry for Human Resource Development unveiled a touchscreen tablet expected to cost US$35. The tablet was developed at the Indian Institute of Technology in Delhi and the Indian Institute of Science in Bengaluru. Says Prasanto K Roy, chief editor of CyberMedia's ICT group, in India's Economic Times:

"You don't show prototypes unless they are working ones with running apps, backed by a clear game plan to build up a vendor and apps network, and a clear design and specifications, and preferably a bill of materials. You don't launch products until you have a product to launch. Else it's vaporware. You also don't re-invent the wheel. We already have US$35 computing devices. We call them mobile phones. The government is wasting its efforts, my tax money, and making a laughing stock of the Indian technological prowess."

AR Roy is right.

WikiLeaks Reveal Pak Betrayal
The New York Times

The military field reports from WikiLeaks suggest that Pakistan, an ostensible ally of the United States, allows representatives of its spy service to meet directly with the Taliban in secret strategy sessions to organize networks of militant groups that fight against American soldiers in Afghanistan.

American officials interviewed could not corroborate individual reports, but said the portrait of the spy agency's collaboration with the Afghan insurgency was broadly consistent with other classified intelligence.

This month, Secretary of State Hillary Rodham Clinton, in one of the frequent visits by American officials to Islamabad, announced $500 million in assistance and called the United States and Pakistan "partners joined in common cause."

The reports suggest that the Pakistani military has acted as both ally and enemy, as its spy agency runs what American officials have long suspected is a double game, appeasing certain American demands for cooperation while angling to exert influence in Afghanistan through many of the same insurgent networks that the Americans are fighting to eliminate.

AR I suppose we should resist the temptation, recalling a phrase from the immortal Attenborough movie Gandhi, to seal a military alliance with India against Pakistan and "teach them a lesson they won't forget." But I say we should get heavy by vetting the Paki ops and forcing out the baddies. If they don't like it, we can move back from Pakistan to India and target the Paks. We can start by taking out their nukes.
2010 July 25

Austal
USAV Spearhead
Aviation Week

U.S. Army Vessel (USAV) Spearhead, is scheduled for delivery in 2012. She is the first ship of the Joint High Speed Vessel program (JHSV) resulting from the U.S. Department of Defense consolidation of the Army Theater Support Vessel and the Navy High Speed Connector. The second ship (JHSV 2), U.S. Navy Ship (USNS) Vigilant, is scheduled for delivery in 2013.

The 103-meter catamarans are designed to transport 600 short tons 1,200 nautical miles at an average speed of 35 knots. They will be able to operate in shallow water and offer roll-on/roll-off transport for heavy items such as combat-loaded Abrams main battle tanks. They will feature an aviation flight deck for 24/7 launch-and-recovery operations.

Austal Builds USAV Spearhead
Six months after the opening of Austal USA's Module Manufacturing Facility in Mobile, Alabama, the keel is laid for USAV Spearhead. The JHSV program covers 10 ships and is worth $1.6 billion.

AR Austal is the Australian company that built the fast Condor catamaran I rode in summer 2009 from Cherbourg to Poole. Its family resemblance to USAV Spearhead is unmistakable.
2010 July 24
Quantum Time Machine Solves Grandfather Paradox
Physics arXiv Blog, MIT Tech Review

Time travel based on quantum teleportation gets around the paradoxes that have plagued other time machines.

In quantum mechanics, postselection enables a computation to ignore some results. For example, suppose you have an expression with many variables and you want to know which combination of variables makes it true. A classical approach is brute force: try combinations of variable until you find one that works. A quantum approach is to let the variables to take any value at random and then postselect on the condition that the answer must be true. This automatically weeds out the false combos.

Postselection leads to utopian predictions about the power of quantum computers. Seth Lloyd at the MIT and his colleagues say that if you combine postselection with teleportation you can build a time machine.

Quantum teleportation uses entanglement to transfer to a new location a quantum state that was previously at another location. Postselection can specify the type of state that is teleported, and so limit the state the original particle must have been in. In effect, the state of the particle travels back in time.

Lloyd's time machine gets around the grandfather paradox, where a particle travels back in time and somehow prevents itself from ever having existed, because of the probabilistic nature of quantum mechanics: anything that this time machine allows can also happen with finite probability anyway. Quantum time travel does not rely on warps in spacetime.

Postselection can only occur if quantum mechanics is nonlinear. All the evidence so far is that quantum mechanics is linear. Some theorists say that the weirdness of postselection proves that quantum mechanics is linear.

The quantum mechanics of time travel through P-CTCs
Seth Lloyd et al., arXiv

This paper discusses the quantum mechanics of closed timelike curves (CTC) and of other potential methods for time travel. We analyze a specific proposal for such quantum time travel, the quantum description of CTCs based on post-selected teleportation (P-CTCs). We compare the theory of P-CTCs to previously proposed quantum theories of time travel ... and investigate the implications of P-CTCs for enhancing the power of computation.

AR I liked Seth Lloyd's book on quantum information and this time travel implication makes sense: given relativistic spacetime, if you have spatial nonlocality, you have temporal nonlocality too, which must seem in some views like time travel. Still, causality is not violated and the grandfather stuff is just woo-woo.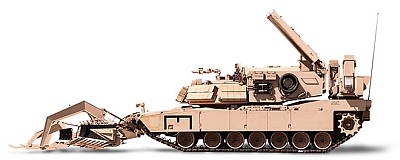 U.S. Marines Assault Breacher: M1A1 Abrams tank chassis with modified turret and undercarriage. SLAM! Armored plow with steel skis dig up land mine. Puny explosion only tickle! Marines drive Assault Breacher first time in December to DESTROY Taliban in Now Zad. Marine Corps want 15 more. Each cost $3.7 million. Assault Breacher SMASH budget!
Wired
2010 July 20
Wirtschaftswunder 2.0
Der Spiegel

During the worst of the global financial meltdown, Berlin pumped tens of billions of euros into the economy and spent hundreds of billions propping up German banks. Now, the country is reaping the benefits as Germany is once again Europe's economic motor.
2010 July 19
Revisiting the math puzzle from my June 14 blog, John Derbyshire has analyzed the problem perspicuously (and with brute force in Visual Basic) and persuaded me that the right answer is 13/27.
2010 July 12-16
Enjoyed happy days at
Ways With Words
Festival of Words and Ideas sponsored by The Daily Telegraph
Dartington Hall, Devon, England, UK, July 9-19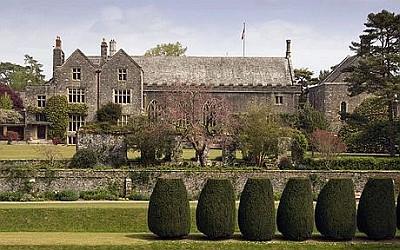 Photo: Christopher Jones
Dartington Hall is like an Oxford college in a Devon setting
2010 July 10
RNAS Yeovilton International Air Day
Viewed fly-by demos of Spitfire, Hurricane, Red Arrows, Vulcan, and Dutch and Belgian F-16 Falcons
2010 July 8
Royal Air Force Museum London
Enjoyed Battle of Britain Hall exhibition "Our Finest Hour"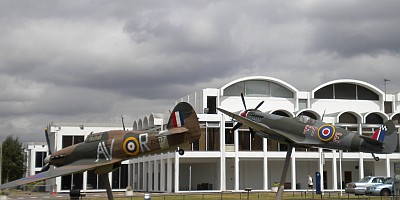 Hurricane and Spitfire mounted outside RAF Museum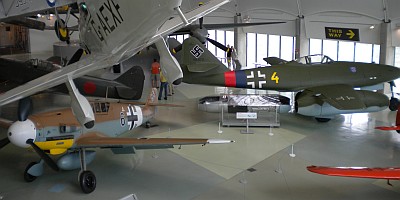 Two Messerschmitts: 109F and 262 at RAF Museum
2010 July 6
Portsmouth Historic Dockyard
Reviewed HMS Victory and HMS Warrior
2010 July 2
Longevity
Emily Singer, MIT Technology Review

By analyzing just 150 spots on the genome, researchers can predict who will live to extreme old age with almost 80 percent accuracy, according to a study published in Science. "Centenarians are a model of aging well," says Thomas Perls, director of the New England Centenarian Study at Boston Medical Center and an author of the study. Previous findings from the project show that 90 percent of centenarians are free of disability to an average age of 93. "They seem to compress disability to the end of their lives," says Perls.

My new book is now on sale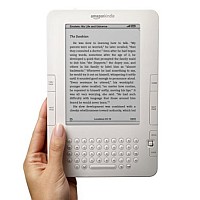 My new book is also available
in a Kindle edition
Toy Story 3
Libby Purves, The Times

In Pixar's Toy Story 3, a cast of animated toys makes most human characters in recent blockbuster cinema look like lumps of plastic. The back story is that Andy, who owns the toys is off to college, and putting them in the attic. The toys are happy when they fulfill their destiny by being played with.

The inward tale of the toy characters is epic. They bravely prepare for their attic exile like hopeful refugees, imagining the best and looking forward to new playtimes. But alas, they are abused and deceived ...

AR Must see this movie. Makes grown men weep, they say.
Touchscreen Tablet for $35
Island Crisis

A touchscreen tablet unveiled in India that costs only $35. Aimed at students, the tablet can be used for web browsing, video conferencing, word processing, spreadsheets, and so on.

According to Indian human resource development minister Kapil Sibal, this new touchscreen tablet is an answer to MIT's $100 computer. The tablet is expected to be in full production by 2011 with a subsidized price for students of around $20.

AR Well done, guys. Let's hope
it works as advertised!


Robert Wright on the emerging global superorganism

David Gelernter on human and artificial thought

Ian Bremmer on the future of U.S.-China relations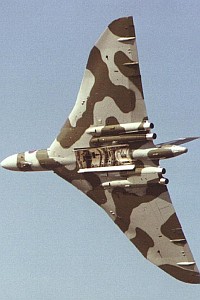 Avro Vulcan
XH558 flies again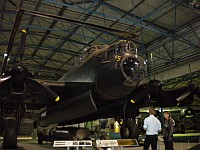 Avro Lancaster
at RAF Museum